FiveStone Loves is our local and global missions strategy. We serve alongside a list of different ministries to help spread the Gospel to our community and to the ends of the world.
Vacation Bible School Offering
From July 24-July 28, we will be having Vacation Bible School at FiveStone! This event is truly an all-church outreach as we prepare to share Jesus with kids and families. From exciting worship to engaging crafts, creative snacks, energetic games, and powerful biblical teaching, we will focus on teaching kids how they can make an impact on their community right now for Jesus!
To pull an event like this off, there is a long list of needed items. From the decorations to the crafts, food, and more, we will need to raise at least $15,000 to cover everything.
This outreach will introduce countless families and kids to FiveStone, and, in turn, we will have the opportunity to help them take their next step in their relationship with Jesus.
Please consider giving towards this wonderful opportunity to reach the kids in our community for Christ!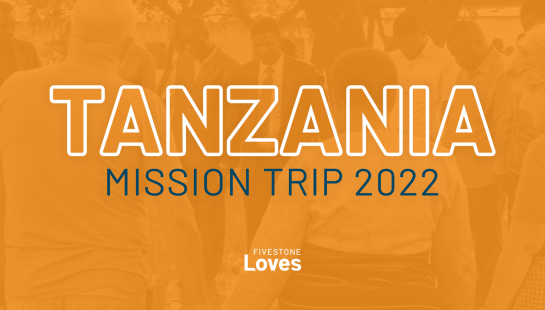 Tanzania Mission Trip 2022 | July 4-16
We are so excited to be going back on mission to Tanzania this year!
On a trip to Bukabwa, Tanzania, we will have the opportunity to travel to different communities and share the gospel with those who have yet to hear the name of Jesus.
Registration is now closed for this trip. Please be praying that lives will be changed as our group travels to Tanzania.
Giving
If you would like to give directly towards our FiveStone Loves initiatives please click below!